GLE Markets Review

One of the top aims of many people these days is to become financially independent and to secure their future, so they don't have to be concerned about the future. Wouldn't it be a relief to know that you have enough saved for a rainy day or for living a comfortable life after retirement?
It can be extremely stressful to watch your expenses go up, while your income doesn't change and no one wants to end up in such a situation. The problem is that your existing income might not be enough to help you achieve this goal, which means you need an alternative way to supplement your income.
Today's world is advanced and digital where people can find solutions to almost every problem at their fingertips and this applies to earning money as well. If you don't want to deal with the formality of a part-time job, but still want to earn some solid income, you can explore the world of online trading, which is brimming with countless opportunities.
Making money in the trading markets is not that difficult, once you figure out what to do. Technological advancement has pushed this space to evolve as well, much like others, and entering the financial markets has become a lot easier than it ever used to be.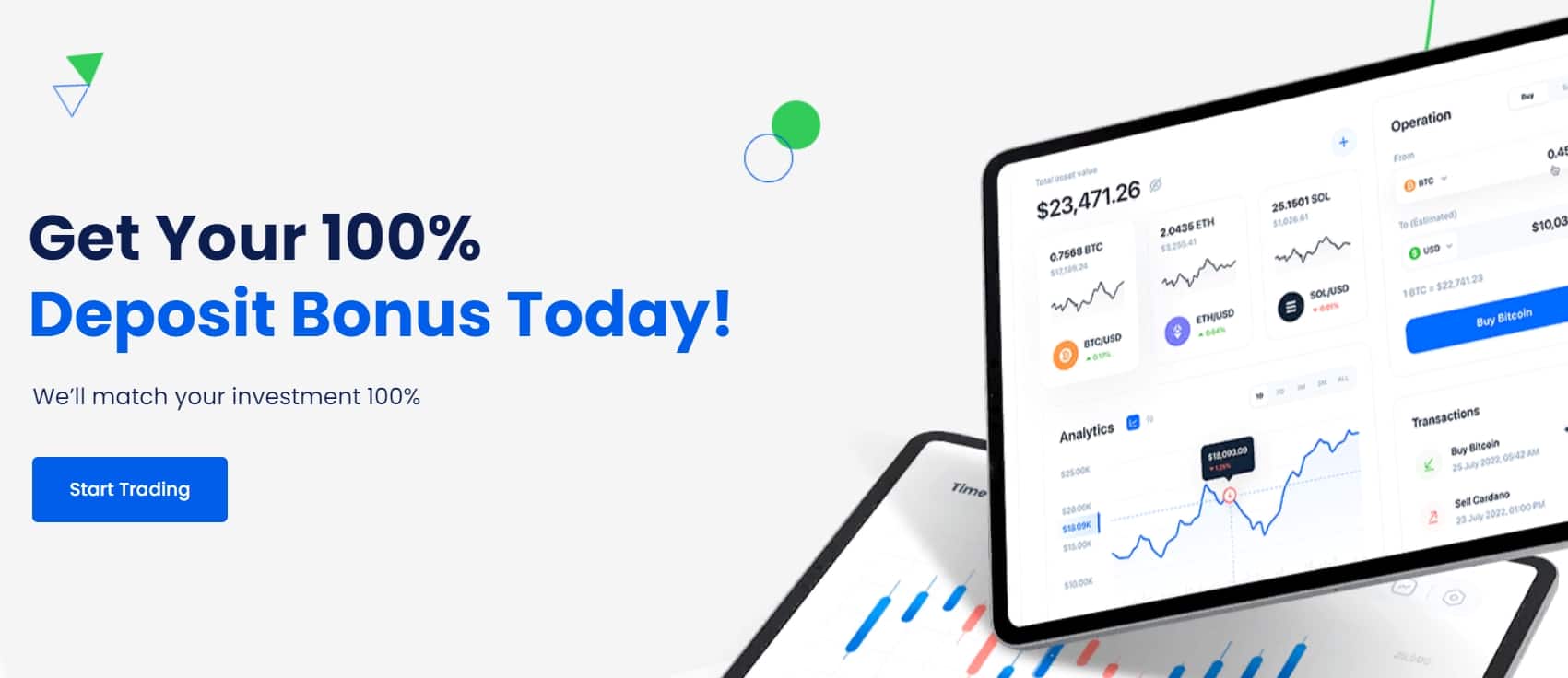 Even if you don't have any prior experience or knowledge about these markets, you can still test the waters and dive in when you want. You just need to have some money to invest and should be at least 18 because most of the brokers who give you access to the markets have this requirement.
There is no need for you to invest all your savings either; even a small investment can give you a big payoff in the trading space, which only enhances its appeal for everyone. Considering the fact that there are hundreds of thousands of financial instruments that can be traded, you don't have to worry about lack of opportunities.
Some of the wealthiest people in the world amassed their wealth by trading in the financial markets and you can also take the same path. However, you need to remember that you cannot be impulsive here because luck will only get you so far; the key is to make smart decisions in order to achieve success in the long run.
This is true when you have to choose an online broker to open an account and start trading. They are the key that unlocks the door of the financial markets, so you cannot trade without them, and they have to be really good at what they do.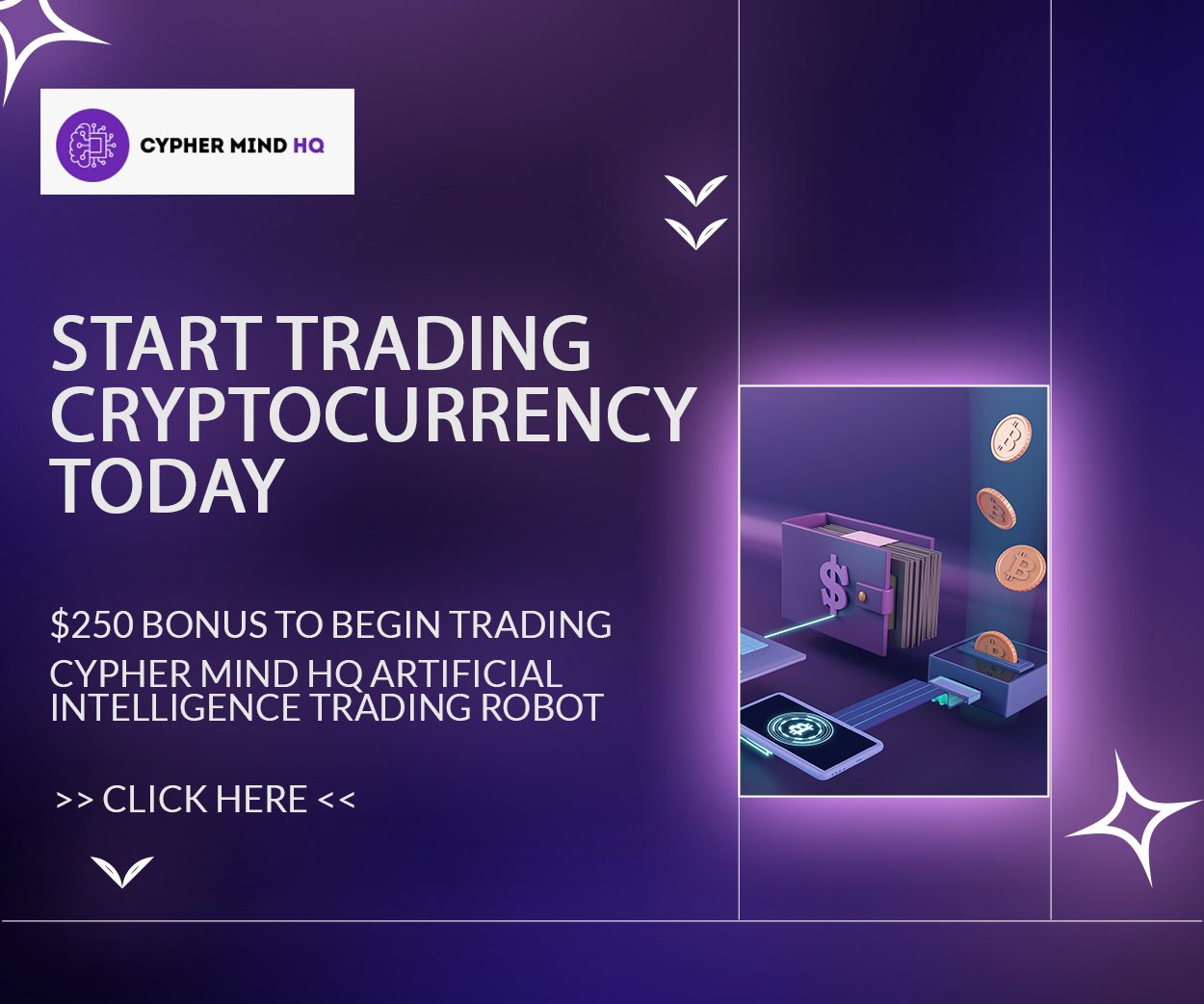 'Finding' a broker is not that big of a challenge. You can find them like you look for everything else these days i.e. a Google search. A multitude of names will pop up and each of these are quite eager to assist you in launching your trading journey.
The sheer number of brokerages can be overwhelming and they appear to be quite similar, which can often overwhelm traders. Having options to choose from is a perk because it creates competition, but the confusion it brings along can be quite frustrating.
GLE Markets Review
This is where some people often make an impulsive decision, which can set them back. You will eventually have to change brokers and this will cost you time, as well as money, along with missed trading opportunities. Therefore, it is better to opt for a solid broker in the first go, which saves you from making any mistakes.
One of the best ones you will come across is GLE Markets, which is headquartered in Limassol, Cyprus. A Cyprus investment company by the name of GLE Markets founded this European forex and CFD broker in May, 2018.
The brokerage is relatively new in the market, but it has made up for its lack of experience by providing professional and well-rounded trading services and features to traders from different parts of the world. Regardless, it is still necessary for a trader to look into the reasons they should opt for GLE Markets, when they can find some other options in the market as well. Why should you choose this platform? Find the reasons below:
1st Reason: GLE Markets is a regulated brokerage
The biggest reason to favor GLE Markets against other brokerages that you might find is that they are regulated. This indicates that it falls under the supervision of a third-party organization and has to comply with the guidelines, rules and policies set forth for trading services. These are designed to ensure honesty and transparency in the market to provide fair competition and to prevent consumer exploitation. The most prominent fact is that GLE Markets is regulated by one of the most reputable regulatory bodies in the world i.e. the Cyprus Securities and Exchange Commission (CySEC), which has established very high standards for brokers.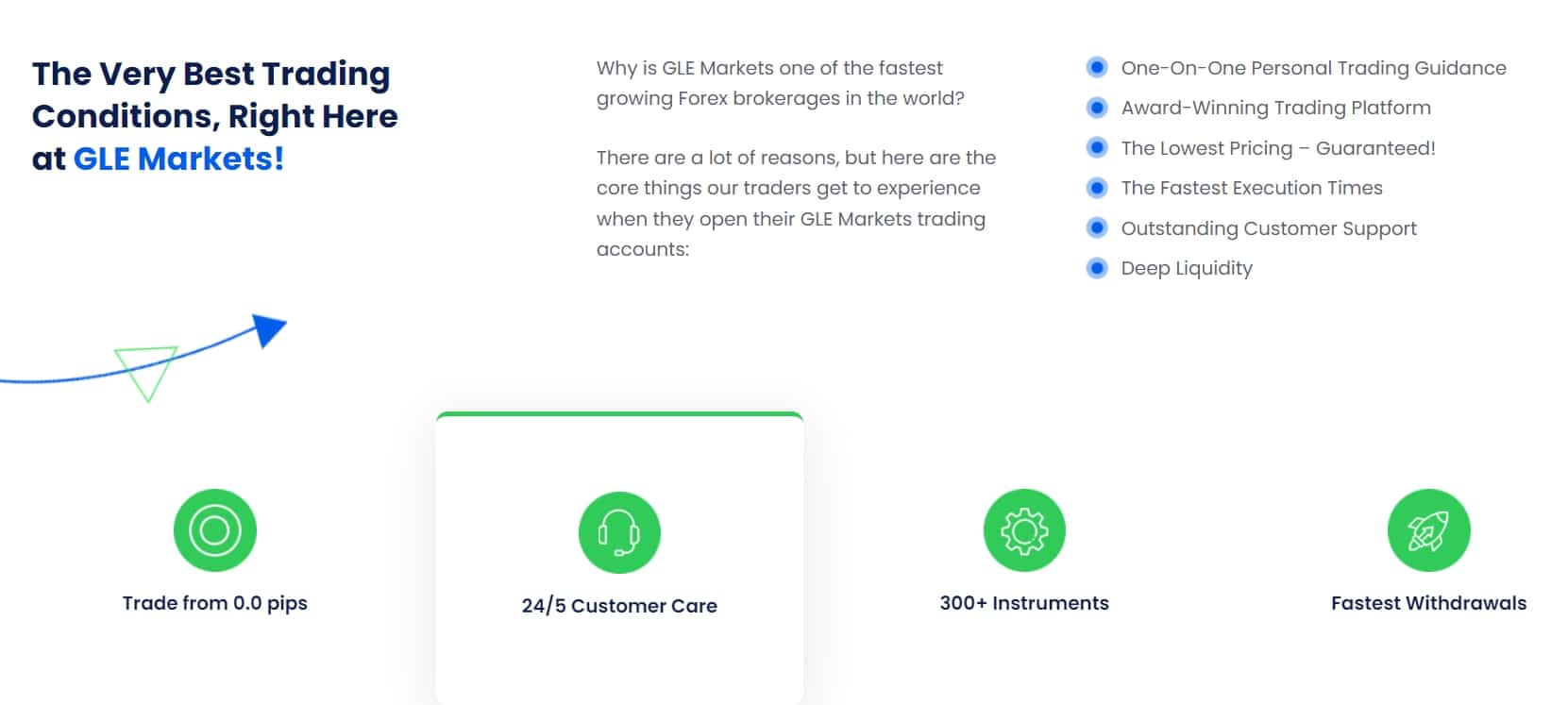 Since GLE Markets has fulfilled these requirements and met its standards, it automatically means that this company can be trusted. Also, as it is a European broker, it also complies with MIFID II (The Markets in Financial Instruments Directive). These set of rules are also designed to provide protection to consumers and to maintain a fair and secure environment for everyone.
As per CySEC regulation, the company is also a member of the Investor Compensation Fund (ICF), which is similar to an insurance plan. In the event the company goes bankrupt or suspends its services, its clients are fully compensated.
Traders are also given negative balance protection, which means that their losses in trading are only limited to the amount they have invested and not beyond. Hence, you don't have to worry about any debts piling up in case you are not able to make the profits you dreamt about. GLE Markets also maintains segregated accounts for its clients, as part of the regulatory requirements.
This means that company and client funds are kept in separate accounts to avoid misappropriation and misuse. They also bank with some of Europe's top financial institutions, which keeps all deposits safe and minimizes the possibility of theft.
2nd Reason: GLE Markets has an impressive asset index
The trading instruments that you are provided by a broker are a must to consider because your profitability will depend on these assets. If these financial products don't offer much returns, you will not be able to achieve your financial goals.
You will come across a number of companies that make big claims about offering you variety where their asset index is concerned, but you may discover later that most of the ones they provide are not very profitable. Moreover, it is important to know the offerings because you want to ensure that you can diversify your investment portfolio as much as possible.
As it turns out, GLE Markets has a very impressive asset index that comprises of 170 financial instruments. It is a CFD (Contract for Difference) broker and enables traders to invest their funds in a wide array of products without having to purchase them physically. These instruments belong to various categories and give you enough room to diversify as much as possible.
You can invest in the forex market, which is known as one of the largest markets in the world. Thousands of people have traded currency pairs in order to make millions and you also have the opportunity to do the same.
There are major, minor as well as some exotic currency pairs that are available on the platform, such as GBP/USD, EUR/USD, USD/JPY and USD/CAD. Another asset category that you will find on GLE Markets is stocks and you can trade in the world's stock markets, allowing you to invest in some of the leading companies like Amazon, Google, Facebook, Microsoft and eBay, Apple, Unicredit, ENI and Fiat.
In fact, you can even trade Cannabis stocks on the company's platform, something that not many can offer to you. The indices market is also one where you can try your luck and there are options, such as S&P 500, Dow Jones, FTSE 100, DAX 20 and NASDAQ that can be used.
This is quite a lucrative market and can provide you with some solid returns. Commodities are another asset category that can be very appealing because it is known to provide consistent profits. There are hard commodities and soft commodities and GLE Markets has added both to ensure their clients can enjoy the mix.
Whether you are interested in trading precious metals like gold, silver, copper and platinum, or you want to trade energies like natural gas and crude oil, or prefer to go with agricultural products like wheat, soybeans, cocoa, corn and coffee.
A very prominent addition that GLE Markets has made to its asset index is none other than cryptocurrency. These digital currencies have shaken the financial world and are considered immensely profitable, thereby drawing the attention of many traders. You will be able to trade some of the world's leading cryptocurrencies, such as Bitcoin, Litecoin, Ethereum, Bitcoin Cash and Ripple with ease.
3rd Reason: GLE Markets offers several trading platforms
The software that's used for executing trades is the market is referred to as the trading platform and it also provides you with the trading tools you need, along with access to the market of your choice. It plays a pivotal role in your trading experience and has to be capable of helping you trade without much hassle.
You can check out the leading platforms in the market and when you do, the MetaTrader4 will stand out in the crowd. The MT4 range of trading platforms is the world's most renowned ones in the world and recommended by all professional and experienced traders.
Therefore, you will be impressed to discover that GLE Markets has chosen to use the MT4 suit instead of developing a proprietary trading platform. It is certainly helpful for traders because you can use the most innovative and powerful trading platform that offers you customizable layouts.
There is the MT4 Desktop option to explore, which is downloaded on your chosen device within minutes and provides a highly intuitive interface, along with other customizable features. Traders can make use of one-click trading and there are other tools to explore like superior trade and order execution, analysis tools, intuitive charting package and numerous order types. There is a navigator window, multiple chart setup as well as pre-installed trading indicators.
Expert Advisors (EAs) are also supported by the platform, which can be used for automated trading by those who don't want to trade on their own actively. If the desktop platform doesn't appeal to you, G LE Marketshas also added the WebTrader version, which is accessed through the company's website and can give you flexibility in regard to where you can use it.
As it is accessible through the broker's website, you can use it on any device supporting a browser. You don't have to be concerned about safety, as this platform uses strong encryption to keep all data safe.
You can get access to 9 chart time-frames, complete account history, different trading orders and execution modes, trading indicators, real-time quotes and analysis tools. Along with these two versions of the MT4, GLE Markets has also added mobile apps that can be downloaded on your smartphone and tablets in order to enjoy trading on the go.
These apps are available on both Android and iOS platforms and are a great option for people who prefer to trade on the move rather than being stuck in one place. You will be able to access your trading account 24/7 and use analysis tools, trading indicators and even trade directly from the charts. It also gives you real-time prices and makes trade execution efficient and quick.
4th Reason: GLE Markets gives you multiple account choices
Opening an account with a broker is expected when you decide to use their services and this typically involves a registration process as well. This can often be daunting for people because they are concerned about what they will be required to do. GLE Markets just has a single form on their website that needs to be completed and the details it asks for are very basic, so it doesn't take traders long to get it done. Information like your full name, email address, country, and password and phone number is needed.
You can finish the form in a few minutes, confirm that you are 18 or above in order to open an account and then agree with the Terms & Conditions. As soon as you are done with this process, you will move onto the step of choosing an account option from the four that GLE Markets has put together for its clients.
These four options have been created to cater to the different needs of the traders, depending on their skills, background and trading style. The first choice you will come across is the Standard account that has been created for those who are just starting their trading journey.
The features of this account include spreads starting at 2.7 pips, an account manager for providing guidance, Expert Advisors for automated trading, access to the education center for polishing your knowledge, a minimum contract size of 0.01, 24/5 customer support and leverage of 1:30.
The second option created by GLE Markets is known as Gold and this one offers spreads beginning at 2 pips. The contract size now begins at 0.05 pips in this account and features of the Standard account are provided.
Next comes the VIP account and this one has been developed for skilled traders who have some experience in the markets. Therefore, they are given some incentive by GLE Markets with spreads starting at 1.7 pips and the minimum contract size set at 0.1.
The final account choice that you will come across on this platform is known as Professional and the name indicates the target market of this account. Consequently, this account comes with an impressive leverage of 1:500 and every other feature provided by the other account options.
5th Reason: GLE Markets provides efficient banking solutions
To be able to start trading, you have to invest your funds and this requires you to figure out how you will make deposits in your account with GLE Markets. This is when you take a look at the payment options that are supported by the company and you will come to know that efficient and convenient banking solutions have been made available on this platform.
You are given the option of using your debit or credit card, whether it is Visa, Maestro or MasterCard, for making your deposits and withdrawals. You can also use Powercash or WiroPay for making your payments.
There are also some e-wallets that can be used, as GLE Markets has also added them to its banking solutions for facilitating its clients as much as possible. As online payments have become common, they have added support for wallets like Skrill and Neteller to help their clients in adding and withdrawing payments.
If you don't want to use any of these options, you can also go with the traditional solutions i.e. bank wire transfers for SEPA transfers. $250 is the minimum deposit amount that has been set by the platform, which is reasonable enough to make it affordable for newbies as well.
When it comes to the currencies that can be used for funding your account, GLE Markets has given you three options to choose from. You can make your payments in EUR, GBP or USD. If you use other currencies, then conversion takes place and this might involve some costs that you will have to pay.
It should also be noted that deposits don't incur any charges on the platform, but there are some costs associated with withdrawals, but they depend on the payment solution you opt for. A detailed list of charges is provided on the website, which you can check to know how much it will cost.
Lastly, it should be remembered that since GLE Markets is a regulated broker, it complies with AML and KYC policies. Under these Anti-Money Laundering and Know-Your-Customer measures, traders have to provide documents for proof of ID and address before they can make any transactions.
6th Reason: GLE Markets provides well-rounded customer support
One of the most crucial aspects of any service is customer support and it is even more important in the trading world because even a slight delay can result in losses of thousands of dollars. When you are using a brokerage's services, it is a given that you will have questions and queries, and you may even encounter some problems in navigation or other areas.
Customer support can make a big difference in determining how your overall experience turns out. GLE Markets has added 24/5 dedicated customer support to assist its clients in every situation.
First, they have an FAQ section where they have put together answers of commonly asked questions. If you don't find your answer here, you can get in touch with the support team at GLE Markets via different channels. They have given phone numbers and email addresses for various countries, such as Spain, Italy, Germany and the United Kingdom.
They also have a Contact Us form on their website that you can complete and schedule a callback for your problem. You will find that their agents are friendly and very responsive, giving you clear and concise solutions so you can continue your trading journey.
Ending Thoughts
When you are looking for reasons to sign up with GLE Markets, the ones aforementioned before are enough to convince you that it is a reliable and comprehensive trading platform to trade in the financial markets.